Here at IndieSEM, we're proud to highlight a client of our's who's become a leader in mobile device accessories; in particular, phone wallets.
In terms of quality and innovation, it's hard to beat what Enphold has brought to the table. In less than one year of operation, they've carried themselves from obscurity to becoming the best iPhone wallet case producers.
Enphold has a lot to bring to the table. Its models are versatile, functional, and stylish. They bring the same features as any phone case or wallet, but rolled into one and enhanced to the next level. Their top-grain leather is hand-worked by professionals to match your phone. They come in a variety of iPhone case sizes—not to mention tons of colors.
There are tons of customizable options when looking for a quality phone case from Enphold. Each model comes equipped with unique features that make it stand out from the crowd. There are many additional options that allow Enphold to carve a hefty chunk out of the competition. Not to mention, Enphold also delivers tons of safety attachments to protect the phone's screen, as well as the camera. The company's myriad of models means that iPhone owners don't have to choose between their favorite features. Instead, they get the whole package.
With that in mind, here's the rundown on two of Enphold's most popular iPhone wallet cases. Between these two cases alone, Enphold has a lot to offer the wallet-conscious iPhone owner.
The Executive Wallet Case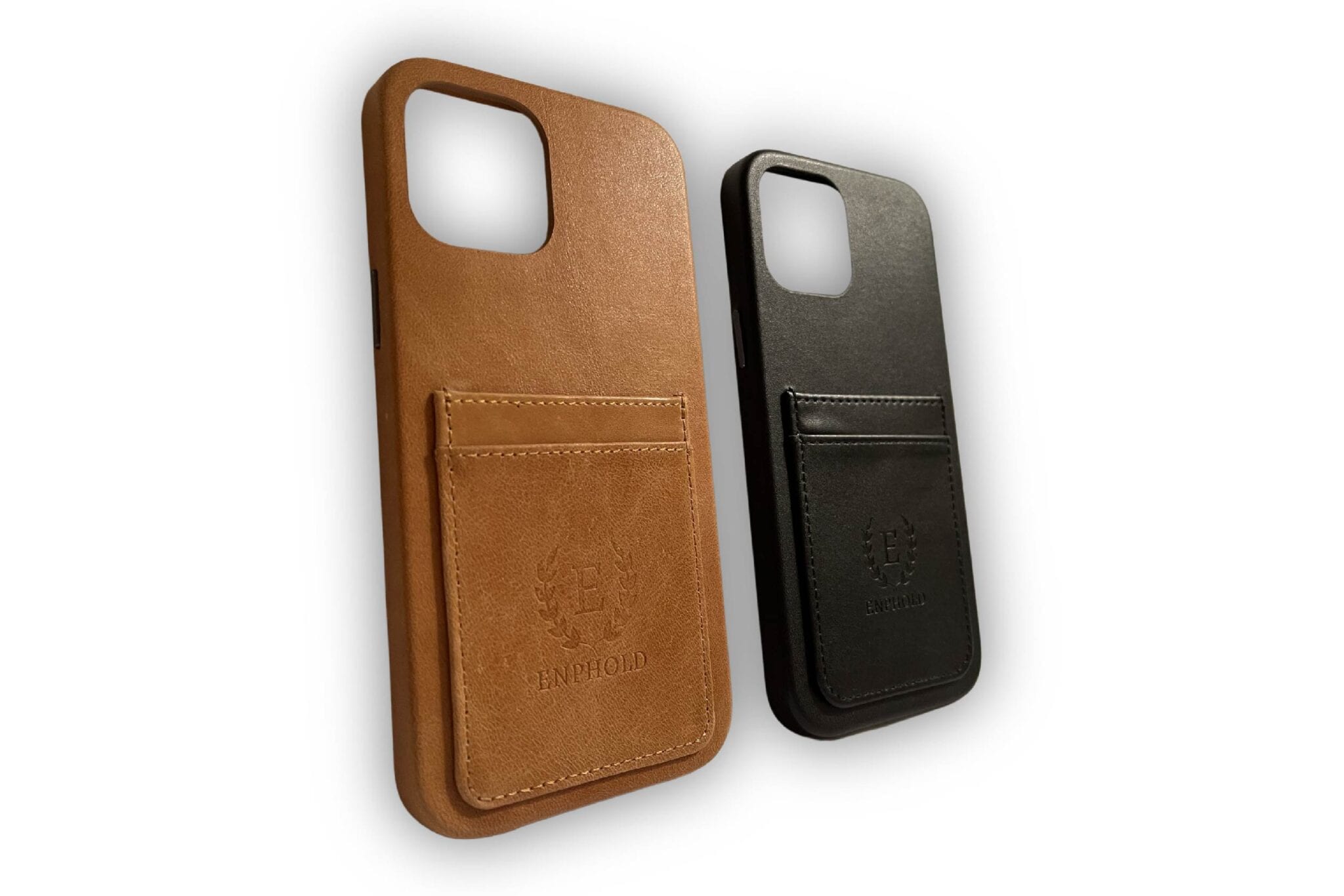 The Executive means class, prestige, and confidence. Its simple, sleek design is a reliable way to expand an iPhone's full potential. People who put their trust in The Executive should also invest in ibuprofen: this model gets heads turning.
The Executive is the boss, calm and collected like the eye of a storm. The model's fine leather construction means it'll take more than a few hits to harm the phone inside. Its slim-fit is perfect for people who don't want stuffed pockets, but big enough to keep cash safe. Need easy access to a work ID, driver license, or credit cards? The Executive's hand-crafted card slots make it an amazing iPhone case. Each slot holds two or three cards, so users can take their valuables wherever they go.
Regular wallets will have a tough time keeping up with The Executive's engineering. They're bulky and large, and people often leave them behind by accident. But how often does someone forget their phone? By combining a wallet with a phone case, The Executive revolutionizes what wallets should be. Its slim fit and easy accessibility are the new standard for any wallet or phone case. By the sheer power of its construction, The Executive negotiates tight fits and comes out on top.
And it's hard to compete with The Executive's amazing look. This wallet case comes in two primary colors: Elite Oak and Brilliant Black. Both colors let the wallet's leatherwork stand out. The embossed logo on the back suggests prestige and luxury, emphasizing the skill and care that went into it. No mass-produced plastic or apathetic manufacturing here. The feel alone tells a story you'll never forget.
Plus, it's compatible with wireless charging. The Executive integrates into your day. It enhances your phone experience instead of making you change for it. From its sleek design to its sturdy stitches, the Executive isn't just a competitor: it's the phone case wallet to beat.
The Folio Wallet Case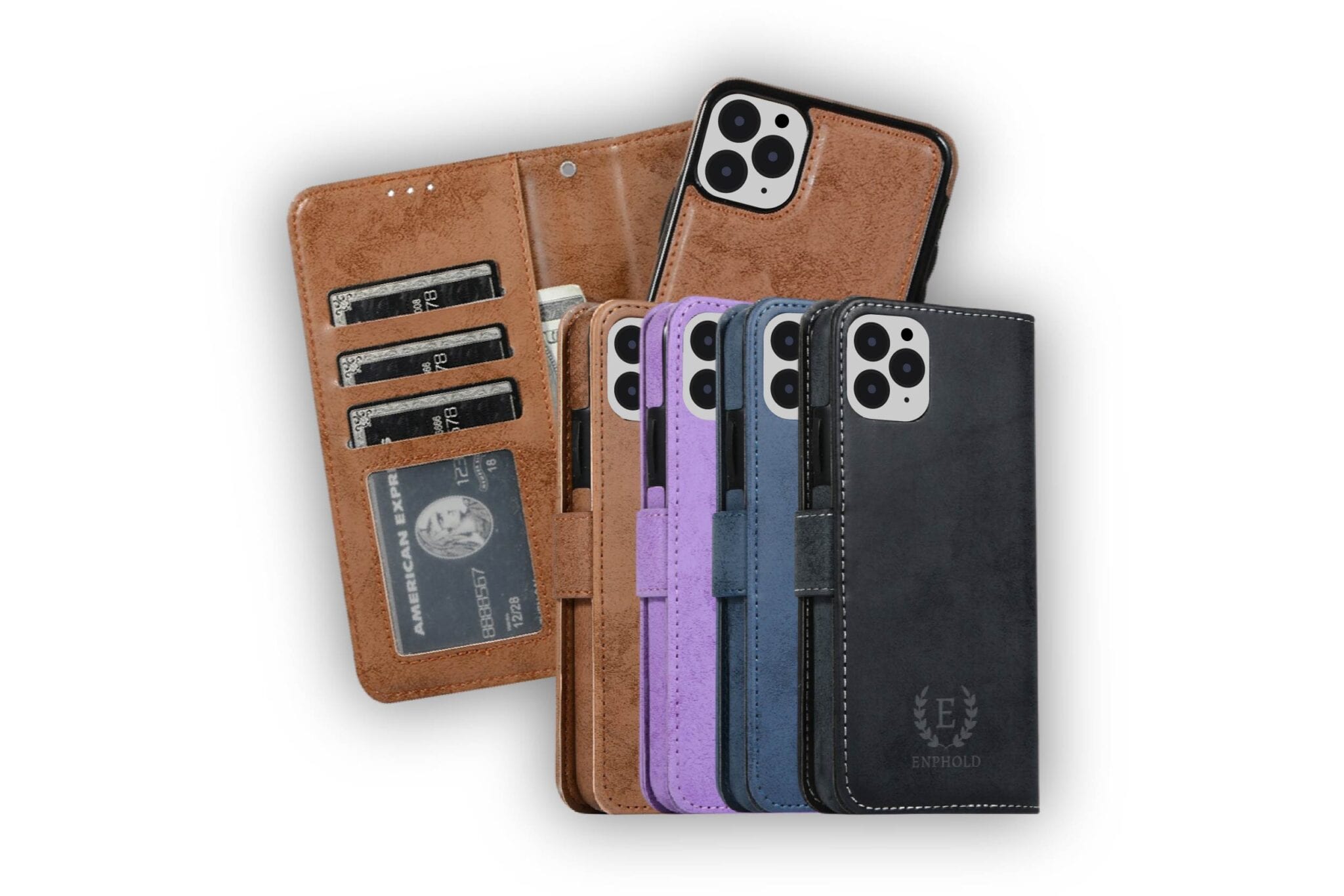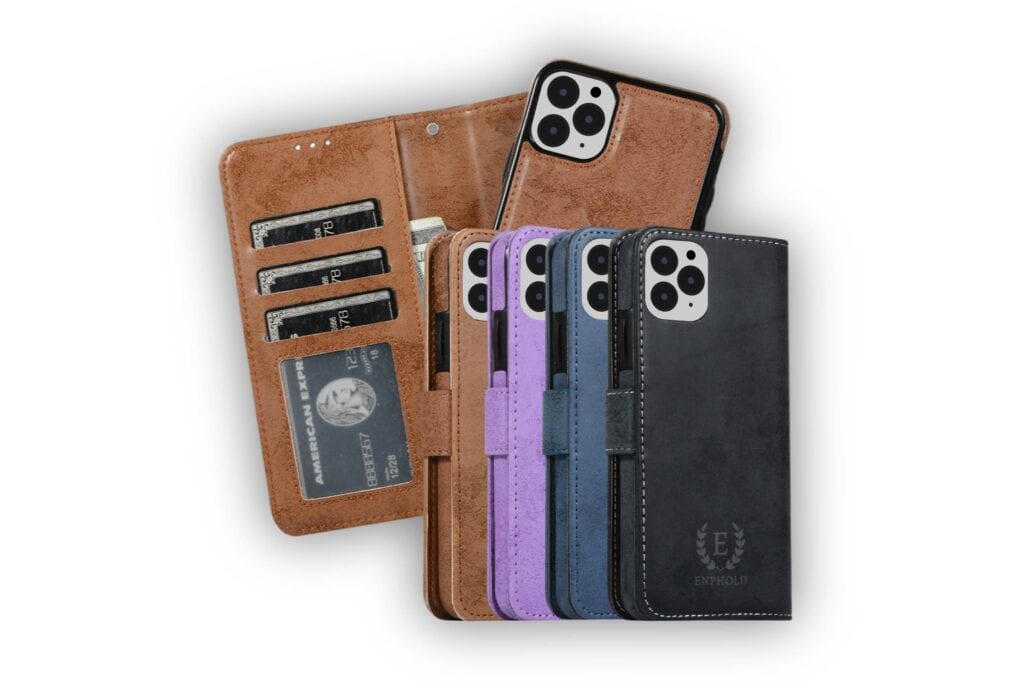 If you want the best for your iPhone, it's hard to go wrong with a classic. The Folio is Enphold's most popular model, and for good reason. The Folio features tons of pockets and card slots, which lets iPhone users bring an arsenal of cash anywhere they go. Its front card slot has a transparent cover, too, which shows exactly which card you've put there. It's a small detail that optimizes how well the case wallet works. Speaking of small details, The Folio's other card slots also let you peek at which card is in there. Their designs overlap so the case shows the top of the next card underneath it. There's also a huge envelope behind these slots for miscellaneous items. Credit cards, work IDs, to-do lists, cash, coins (just watch out for your screen) and more can slide easily into The Folio's large back pocket.
All of that storage space comes from a single detachable card holder. That's right—The Folio's wallet can unclasp and act as a separate device. It's perfect for someone who's just trying to carry their phone. The Folio only gives as much weight as you want. Whenever the iPhone or iPhone case needs cleaning, detaching The Folio will help reach corners that are hard to clean. Upon detaching, the first thing to note is how slim The Folio is. While not as slim as The Executive, the model is hardly any thicker in the front than it is in the back. This is quite impressive, considering how much space the wallet needs to hold. Even with all those cards and cash, The Folio takes it all without a word of complaint. With an easy detachment method and a convenient way to reach its contents, The Folio is easily a contender for the best wallet/phone case combination.
Keeping the case attached is perfectly fine, as well. It's hardly heavier than its contents, so The Folio won't have trouble fitting in pockets and purses. There are plenty of advantages to letting the case cover the screen, as well. It snaps on to the back of the phone when not in use, collapsing everything onto the phone's front. Once it's snapped shut, The Folio will keep closed until called for again. Because it can close up on your phone and valuables, this phone wallet also doubles as a screen protector. The best way to protect your phone is to prevent it from ever being hit, and The Folio's case does just that.
And of course, The Folio enjoys some of the same advantages brought up by The Executive. It's still compatible with wireless chargers, and there's nothing to beats that hand-smoothed leather feel.
Shop iPhone Wallet Cases from Enphold today!